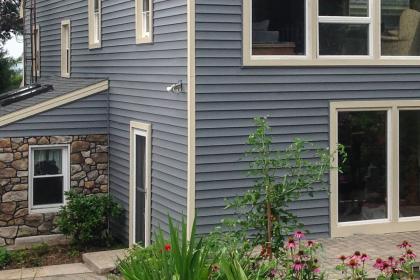 MR Roofing does siding replacement only if we are also re-roofing.
Did the wind blow siding off your house? Are you looking for replacement siding to give your house a fresh look? If your home is starting to look old and tired, you will be surprised (and delighted) at how new siding will transform it!
MR Roofing uses high-quality siding. We take care to install the siding properly to minimize wear and tear from the weather. We normally try to add insulation underneath the siding so you can spend less on heating and cooling.
Vinyl siding comes in a wide variety of styles and colors—the options are practically endless. We will help you go over your options for replacement siding to help you get the best value for your needs and budget. Give us a call to start the conversation.
Your windows can be wrapped to add color or design to your home. You can add shutters of any color to set off the windows nicely.
We'll also replace the soffit and fascia if needed. These two areas along the roof are places where you can add a lot of aesthetic beauty to your home. As with siding, there are many color options for either new or replacement soffit and fascia.
Siding jobs usually take anywhere from three days to five weeks to complete depending on how many corners your house or building has.
Palmyra, PA
My home and landscaping looks like nothing occurred as the men treated my residence as if it was their own.