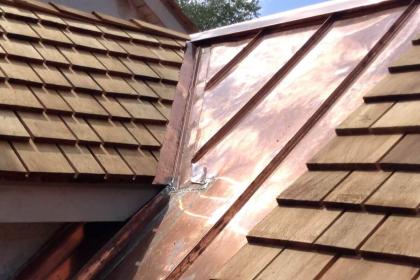 Curious about copper roofs? There are a few places where copper roofs work especially well.
Copper can be used on roofs that are practically flat (a 1/12 pitch, if you want to know the details). This means that if you have a flat roof where you prefer not to use rubber, copper is another option to consider.
Another way homeowners typically use standing seam copper roofs is to highlight a cupola or bay window. The accent the copper provides on these small roofs is really attractive. In addition, most other roofing materials, except shingles, don't work as well in these small applications. Copper also goes well with cedar shake roofs.
MR Roofing can complete copper roofing projects of any size ranging from copper flashing to standing seam and flat copper sheet roofing.
If you'd like to learn more about pros and cons of a copper roof whether big or small, give us a call.
West Chester, PA
I feel like the quality, service, and value MR Roofing is the best!