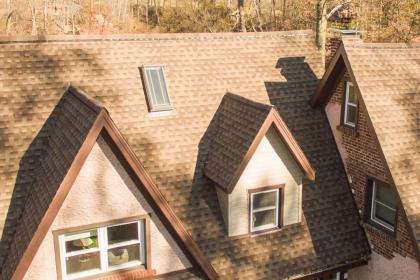 Has the wind been blowing shingles off your house roof? A little uneasy because mold or moss is building up on your shingle roof, and you are wondering if you should check into a replacement roof?
What if you come home on a windy day, and half your shingles are gone?  Or you look at your roof closely, and moss and mold are growing all over it?  It may be time to check into a replacement roof.
Asphalt Shingle Roof Replacement
In selecting the product to roof your house, you can opt for the most widely used roof material, asphalt shingles.  Lower priced than other roofing options, our high-quality GAF shingles will last you for decades. Choose from many different color options and find one that complements your house the best.
No need to worry about your shingles blowing off or malfunctioning, or to concern yourself with roof repair. Because we are a GAF Master Elite® certified roofing company, we can offer the highest levels of warranty available. If your shingles fail due to a manufacturing process, the warranties can cover the complete roof system including labor and disposal costs for 50 years. It ALSO includes a 20-year workmanship guarantee on qualified roofing projects.
Paradise, PA
We replaced a wood shingle roof with asphalt shingles, which seemed like a daunting task, but your team made it look easy.
From the office staff Wendy and Jenny, to Eli the salesman, Mahlon the project manager, and Ivan the foreman, we appreciated the prompt communications and courtesy to keep us informed about schedules, any delays or changes, and the progress of the work. The team's knowledge and explanations when answering questions were very good. A hard-working group. Good clean up and attention to the limitations on where the roofer buggies could run and park due to old property with septic lines and cistern overflow.