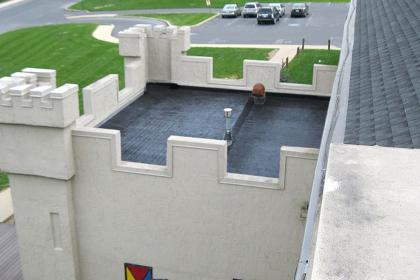 Rubber roofing is used on flat roofs or roofs that slope very little. EPDM roofing, as it is often called, is most often used on commercial building roofs. We install replacement roofs or brand-new roofs. Either way, we'll make sure you won't end up with a leaking roof.
We can install this flat roof system on any low-sloping industrial roof, or even a residential roof such as a back patio roof. However, since rubber roofs lack curb appeal, we advise against using rubber where it will be visible from the road or from windows of your home.
A rubber roof will last a long time, providing the seams are done correctly. A rubber roof is only as good as its seam, but when MR Roofing does the seaming, it will last a long time.
You might wonder if the rain will drain off your flat commercial roof. If the roof is not draining properly, we will install a tapered insulation system to get the slope needed to handle runoff.
Rubber roofs are relatively straightforward and inexpensive to install. We don't rush the installation, taking care to make sure the glue is spread evenly to prevent air bubbles from forming. In addition, you'll get the 20-year guarantee we provide on qualified projects.
Lancaster, PA
The installers were very prompt, took good care of our belongings, and did a very good job of cleaning up after themselves.
Kermit & Marcille Crossland